Regular price
$199.99 USD
Regular price
$239.99 USD
Sale price
$199.99 USD
Unit price
per
Sale
Sold out
  Save $35 OFF,  Code: R35U 
About this item
- 15-in-1 USB C Docking Station: This 15-in-1 USB C docking station dual monitor is equipped with 15 ports, including 2 HDMI,1 DP, 5Gbps USB C, 3 USB 3.0, 2 USB 2.0, Gigabit Ethernet RJ45 port, SD/microSD slot, headset jack plus a separate 3.5-mm audio and microphone port, DC port for power, transform your laptop into a complete workstation via ONE C-to-C cable. Specially designed for USB C laptop with thunderbolt 3 port or USB 3.1 Type C Gen2 port. (Note: USB-C ports are not for video display).
- Triple Display Docking Station: 4URPC USB C Docking Station is a perfect choice for extending your USB-C laptop including MacBook with M1/M2 chip to a triple monitor setup, supports up to triple 4K displays: Dual 4K 60Hz (HDMI&DisplayPort) and One 4K 30Hz(HDMI). Please install the driver before triple display setup.
- Dual 4K Extended Displays docking station: 4urpc dual monitor MacBook pro docking station connects two external 4K displays simultaneously in extend mode including MacBook with M1/M2 chip using two HDMI ports or HDMI/DP. This dock supports two 4K extended displays with up to 3840x2160 resolution at 60Hz via one HDMI and one DP port. Please install the driver before the dual display setup.
- Docking Station with 65W Power Supply: This MacBook Pro docking station dual monitor goes with a 65W power supply which would mean all ports on the dock share a maximum power supply of 65W ensuring safe and stable performance during usage. With the power supply, a single USB-C cable can give your laptop a blazing-stable charging speed experience without your laptop power supply.
- Docking Station USB C to Gigabit Ethernet and PD Charging: Supports 10/100/1000Mbps speed, provides high-speed stable Ethernet condition for you, which makes your work more effective. Its light and compact body also insert SD and TF slots for easy access to files from universal SD and Micro SD Memory Card, supporting 2 cards reading simultaneously. The SD and microSD (TF) slots can read data simultaneously and transfer files.
- 6 USB Ports Laptop Docking Station: You can connect up to five USB devices+one USB-C devices with this USB C dual 4K monitor docking station.The Speed of three 3. 0 USB ports and a USB C port is up to 5 Gbps; two USB 2. 0 ports provide a more stable connection without wireless interference. Due to the USB 3. 0 radio frequency interference to the wireless connection, it is advisable to connect your wireless device to the USB 2. 0 port.
- Wide Compatibility USB C Docking Station: Compatible with the following systems: Windows, macOS, Android, ChromeOS, and Ubuntu systems.

This laptop docking station is not only compatible with macOS (M1/M2 MacBook/Intel MacBook with thunderbolt 3 dock) but also with windows laptops including Dell XPS13/15, Lenovo Yoga 720/910/920/930, Microsoft Surface Book 2/ Surface Go/ Surface Laptop 3, Dell Latitude 13 7000/Latitude 13 E7370 and other laptops with full-feature USB C laptop.
- IMPORTANT NOTES: Before purchasing this USB-C dual/triple 4K display docking station, please make sure your USB C and Thunderbolt 3 ports can enable features USB Alternate Mode (Alt Mode) and USB Power Delivery (PD) charging.
DSC02 is a driver-based docking station. The bottom HDMI is plug and play via USB C Alt, and the top HDMI and DP port are work based on the USB 3.0 driver. Please download the drive from "DisplayLink" before use.
Any questions, just feel free to contact us.
Compatibility

Please Check Your Laptop Before Purchasing.

Compatible Devices (Not a full list):

MacBook Laptops: MacBook Air (M1, 2020)/MacBook Pro (13-inch, M1, 2020)/MacBook Pro (13-inch, M2, 2022)/MacBook Air (M2, 2022); MacBook Air (Retina, 13-inch) 2018/2019/2020; MacBook Pro (13-inch) 2016/2017/2018/2019/2020; MacBook Pro (14-inch, 2021); MacBook Pro (15-inch) 2016/2017/2018/2019; MacBook Pro (16-inch)2019/2021

HP Laptops: HP EliteBook 1040 G4/HP Chromebook-14-db0030nr/HP Chromebook 14A G5/Spectre x360 13t/15/15t/Spectre Folio (13t-ak000cto)/Spectre 360/Spectre x369/Elitebook 840 G5 series/Elitebook X2/Elitebook x360 1030 G3/Elitebook 745 g6/Elitebook 830 g6/ 2018 Elite 800 G4/Elitebook 850 g5; Envy Geforce mx250/Envy x360 Laptop (15z-ds100)/Envy x360 15-ds1063cl/ENVY Laptop 13-aq1/ENVY 13 (13-ad000,13-ad100) Series; Zbook 15u G3/Zbook 17 G4/Zbook 16 G6/Zbook studio z5; Omen laptops; Probook 440 G7/ProBook 450 G7

Dell Laptops: xps13/xps 13 9365/xps 13 9300/xps15/xps 15 2018/xps 9380/5590; latitude 3500 / 7490 / 7280 / 7300 / 7370 / 7390 / 7480 / 7400 / 5400 / 5500 / 5490 / 5310 2-in-1 / 5310 2-in-1; Inspiron 14 7000 series 2-in-1(7405) / 15 7000 series 2-in-1 / Inspiron 7373; precision 7730 / 7750 / 7520 / 5550 / 5540

Lenovo Laptops: Lenovo Thinkpad T590/Lenovo ThinkPad L480/Lenovo Yoga 720/Yoga 370/ Yoga 720-13IKB/ Yoga 730/ Yoga 900-13ISK/ Yoga 910/ Yoga 920/ Yoga 930/ Yoga 940-14IIL / 3rd generation Thinkpad Yoga / Yoga15 Ultrabook Pro / Yoga C930/ Yoga c940/ Yoga C740-15IML/ Yoga 7i; Thinkpad E590/ Thinkpad P72/ Thinkpad T470/ Thinkpad T470s/ Thinkpad T490/ Thinkpad T490s/ Thinkpad X1 Carbon (2019 model) / Thinkpad Carbon X1 Gen6/ ThinkPad X1 Extreme

Acer Laptops: aspire5 2019 / d17w3 aspire c24-865 / Swift 1 laptop / swift 7 sf714-52t-75r6 laptop / Spin 5 SP513-52N-52PL / Chromebook 11 CB311-8H-C5DV

Asus Laptops: Ling Yao 3, Ling Yao 3PRO, Ling Yao X Series, 13'' Zenbook UX330UA/ Zenbook flip ux370u/ Zenbook ux434f/ ZenBook Flip 14 UX461UN-DS74T/ TUF Gaming A15 Gaming Laptop/ Zephyrus G14/ Rog GX501

Surface Laptops: Microsoft Book 2 / Surface Go / Surface Laptop 3; Surface Pro 7 /Surface Pro 5 / Surface Pro X
DisplayLink Driver Installation Guide

The bottom HDMI on the MacBook docking station triple monitor is plug-and-play via USB C Alt, and the top HDMI and DP ports on the Macbook Air docking station work based on the USB 3.0 driver. Please must make sure that your laptop's USB-C port support power delivery and alt-mode display, otherwise the bottom HDMI cannot work.

STEP 1 - Attach the power adapter to the DC 20V port of the 4URPC docking station(the indicator will light on).

STEP 2 - Connect the TO HOST port of the USB C dock station and laptop via the USB C connection cable as attached.

STEP 3 - Download the "DisplayLink Manager" by visiting here: https://www.synaptics.com/products/displaylink-graphics/downloads

STEP 4 - Choose your operating system.

STEP 5 - Download and Install.

STEP 6 - Connect all the devices.

STEP 7 - Set up the resolution and enjoy.
2-Year Warranty

30-Day Returns

Free US Shipping Over $50
Share
View full details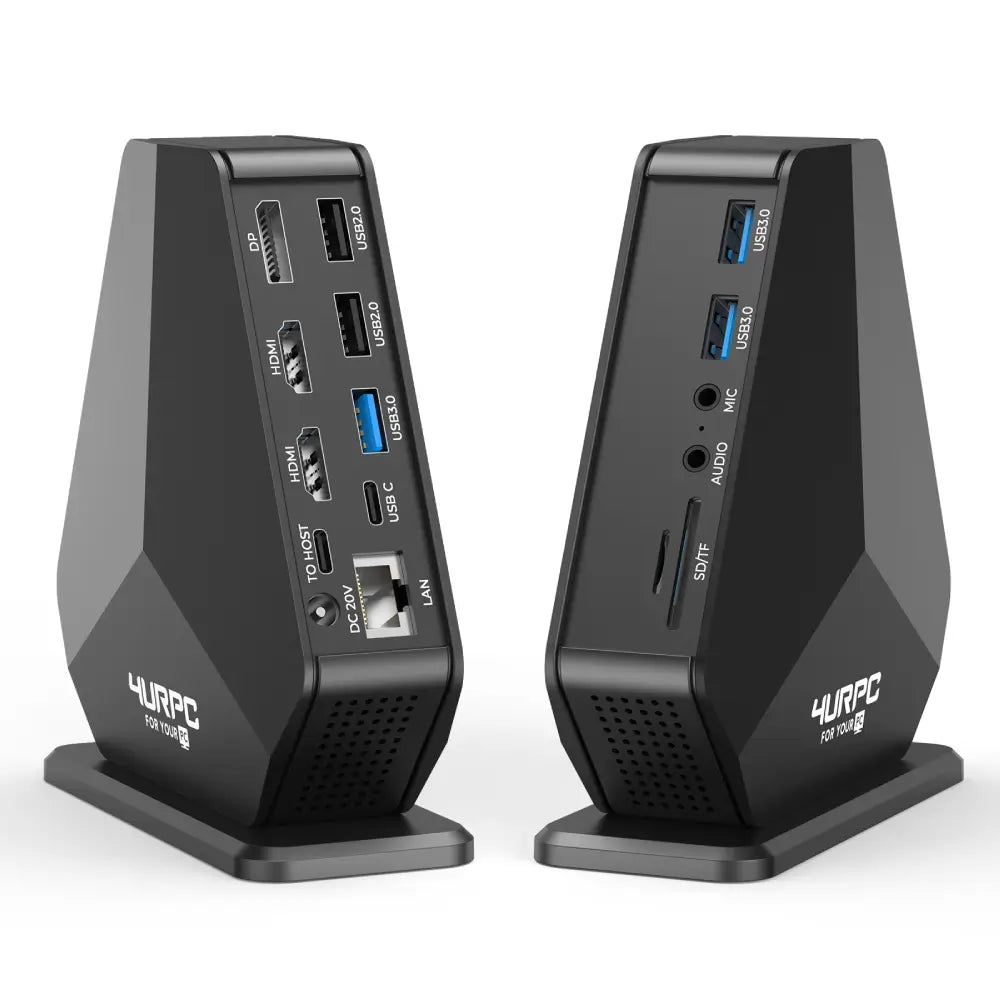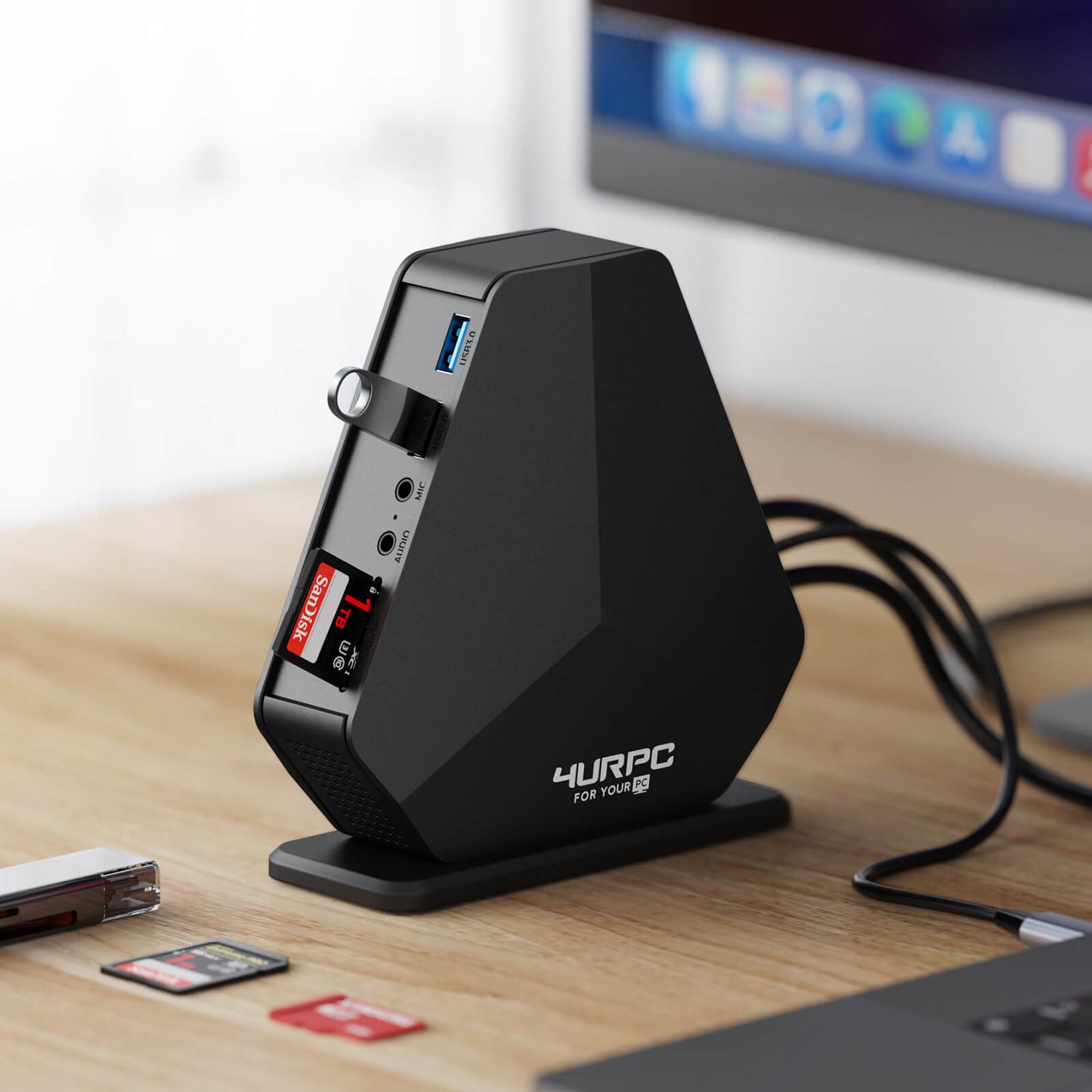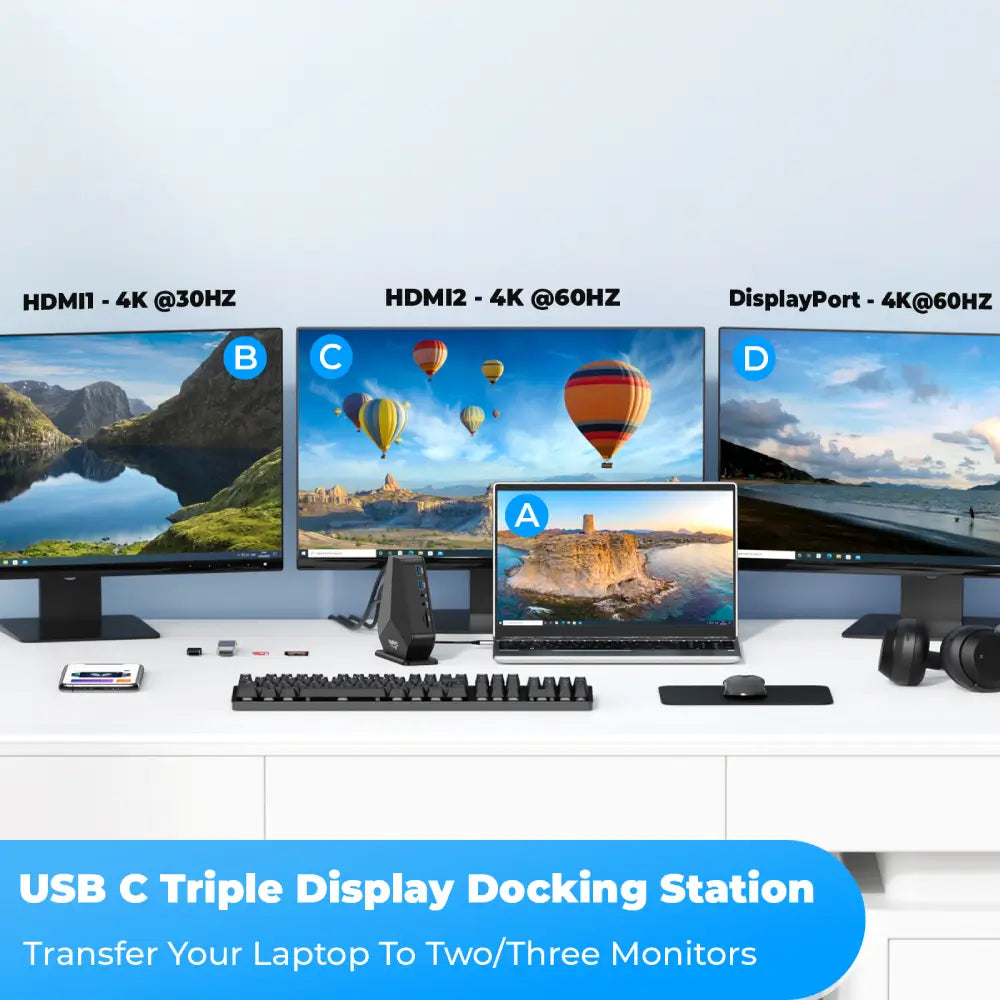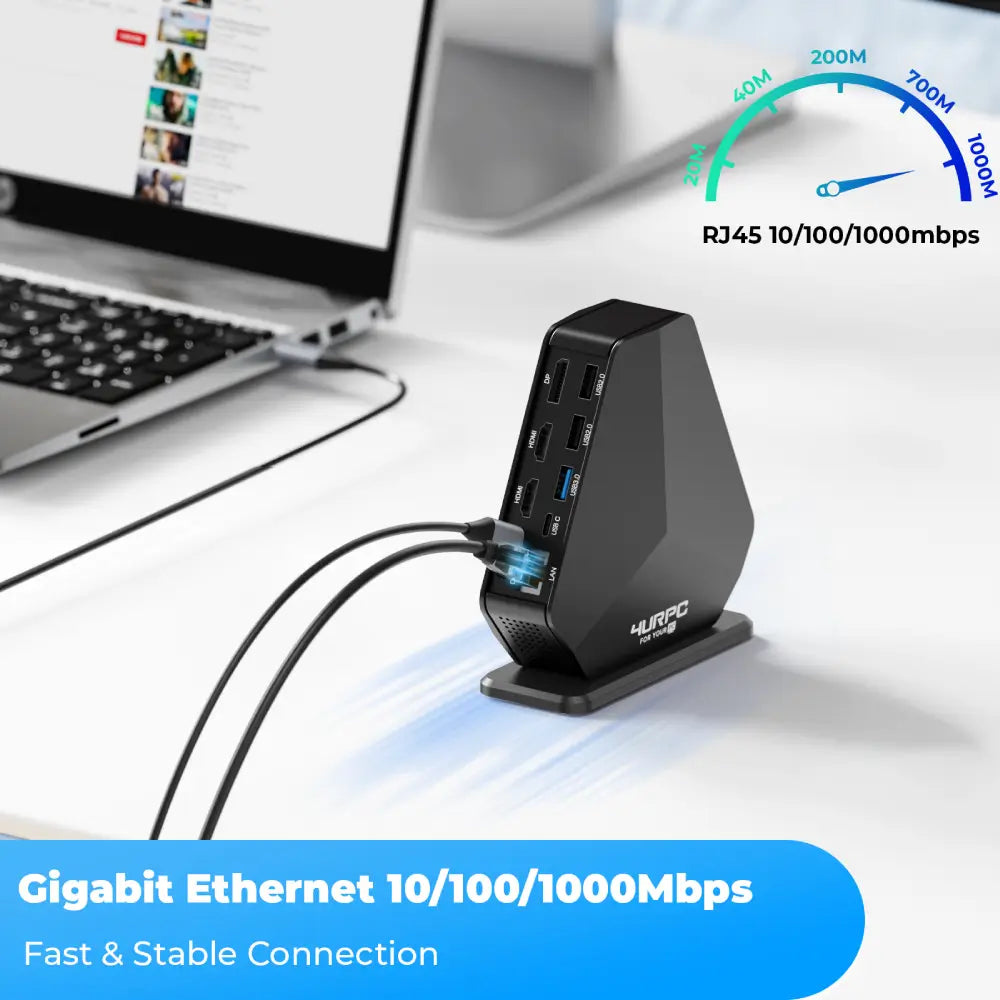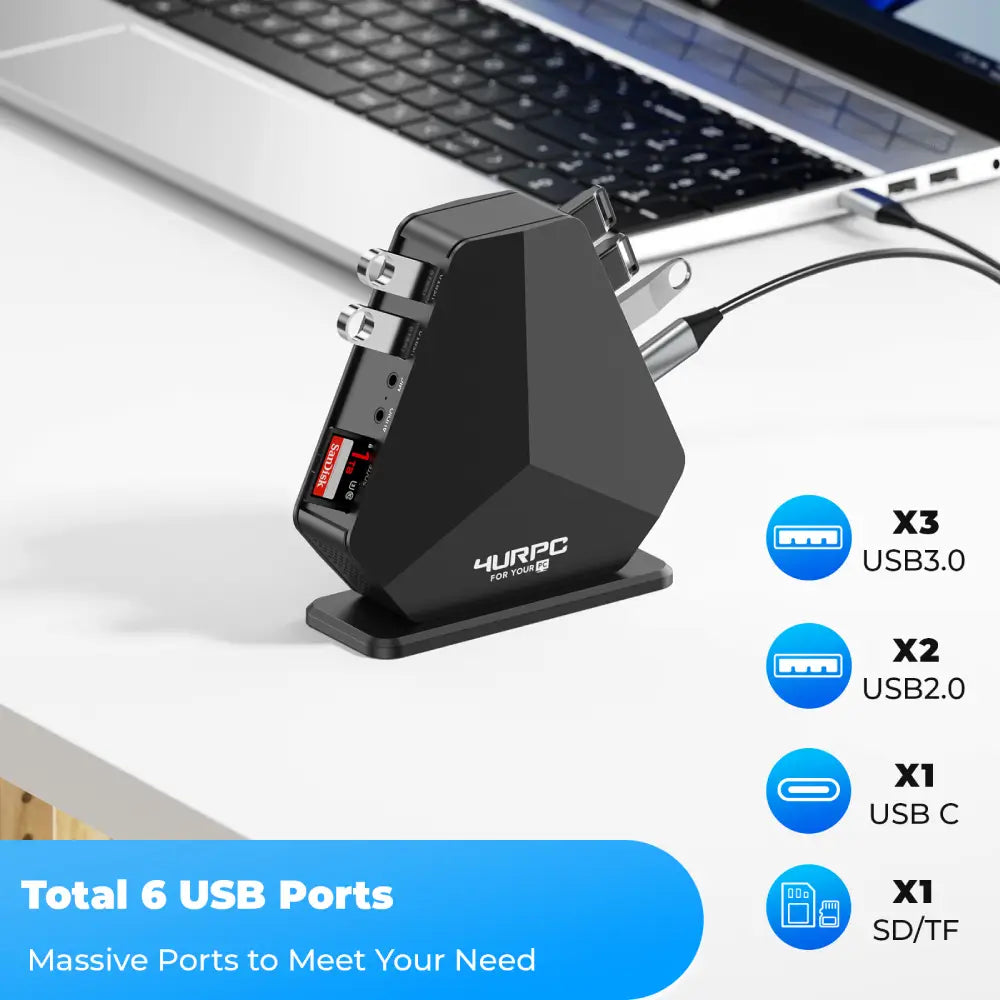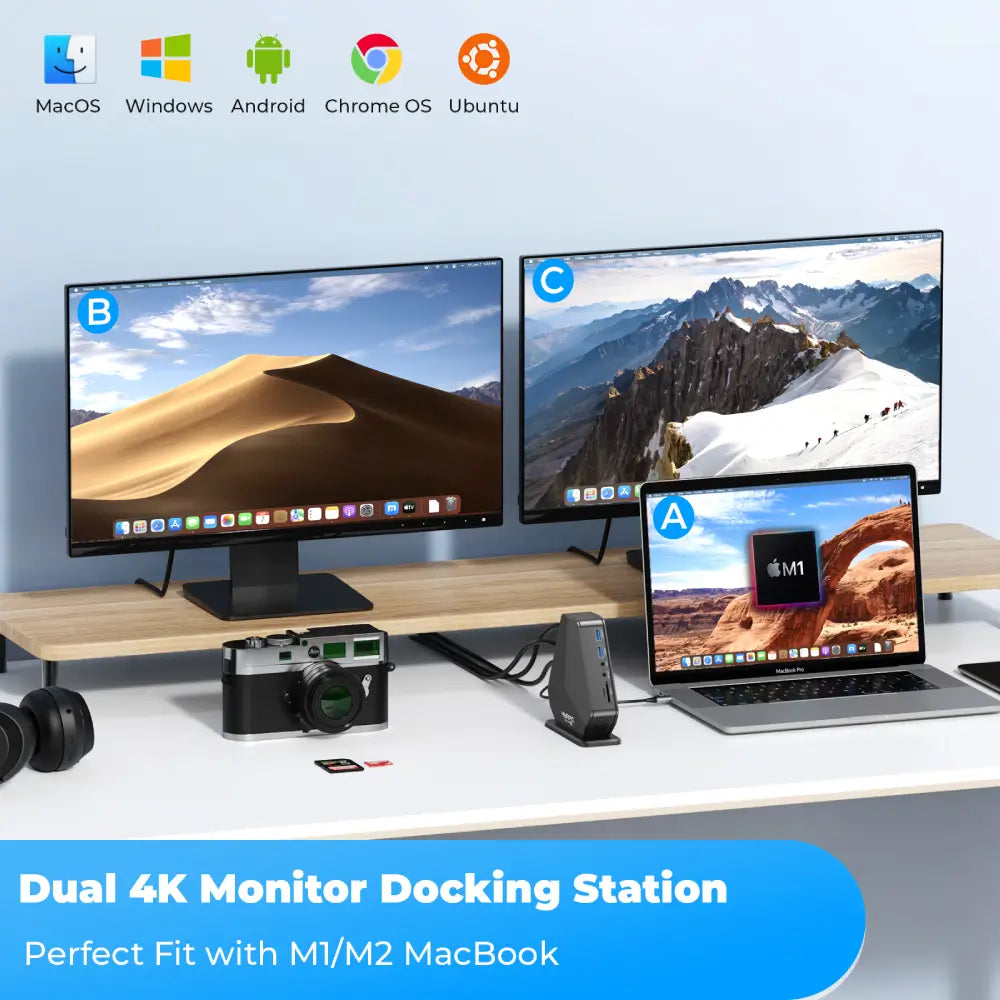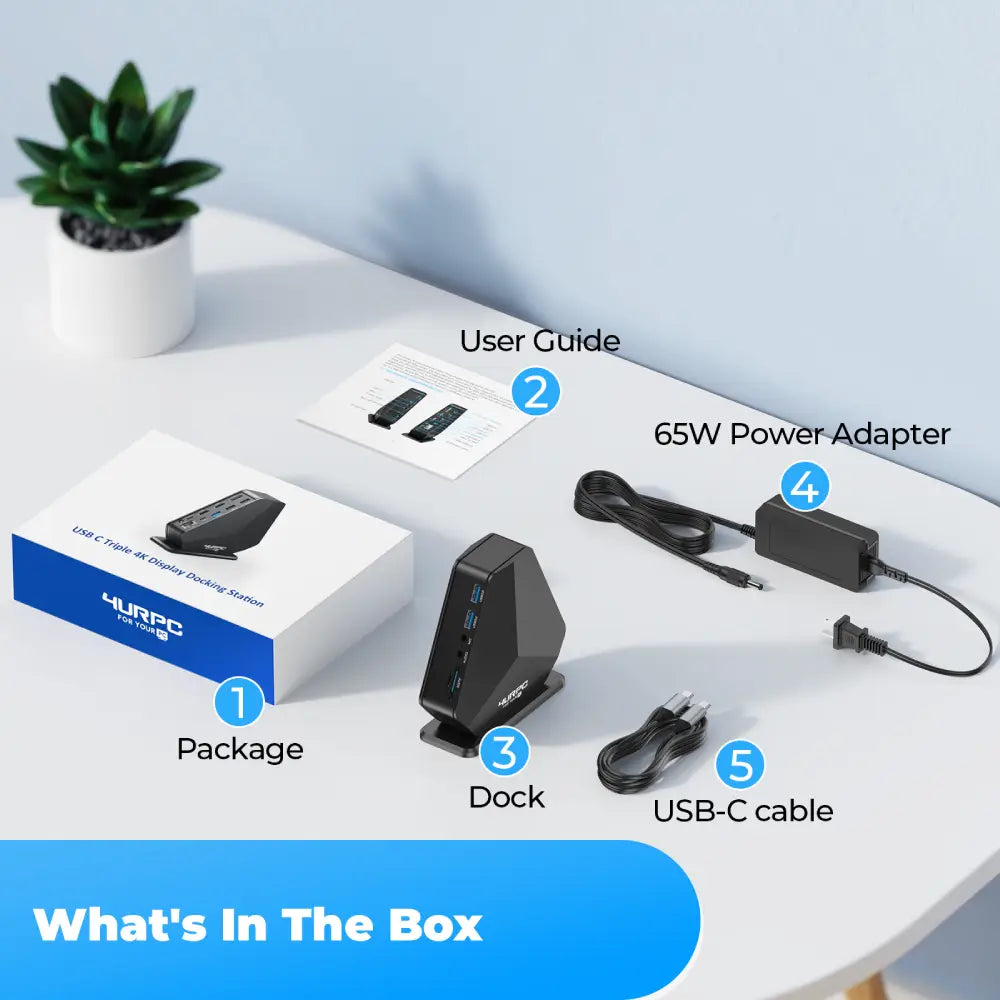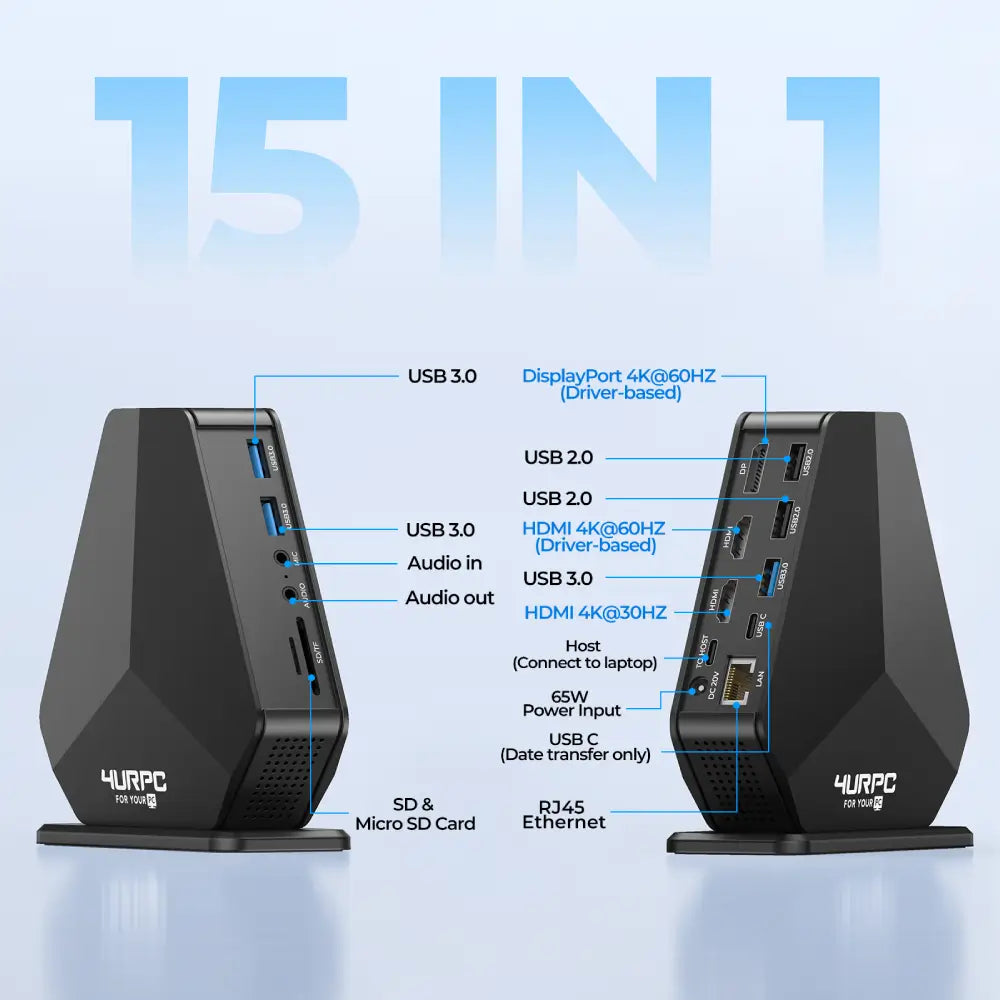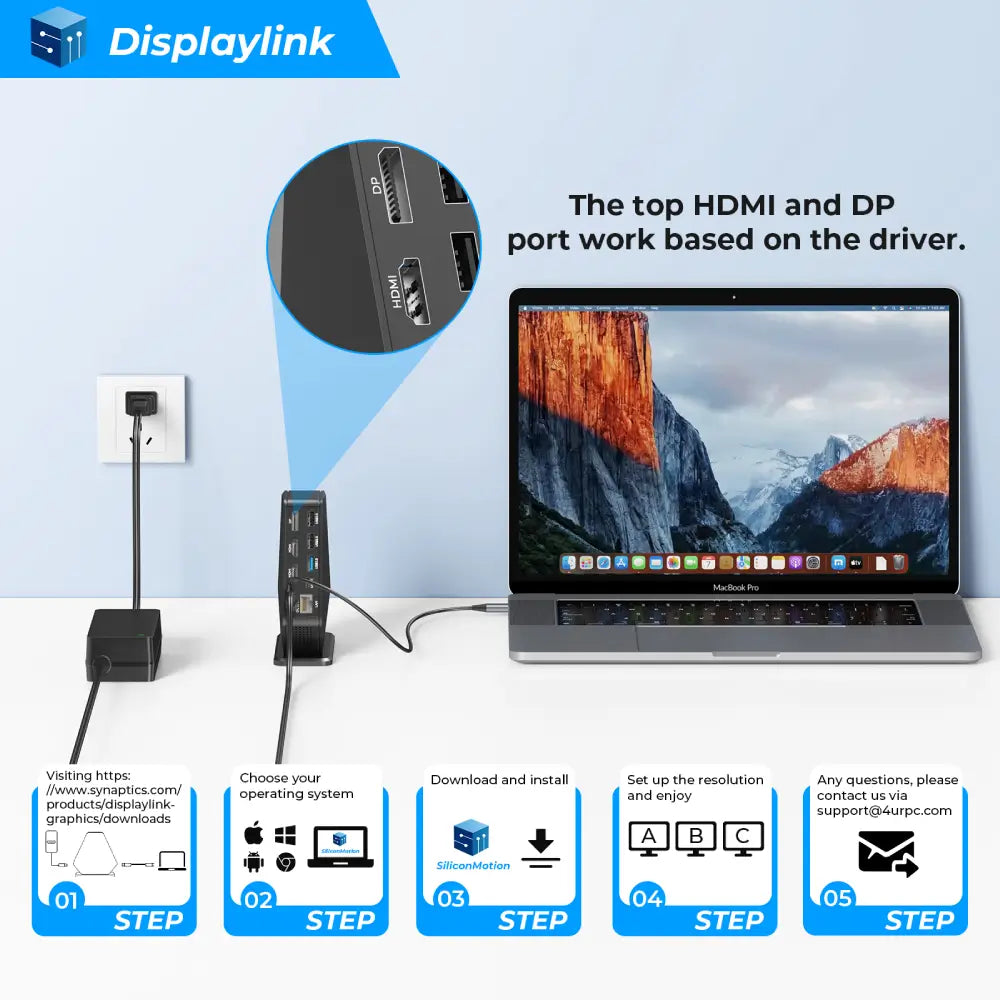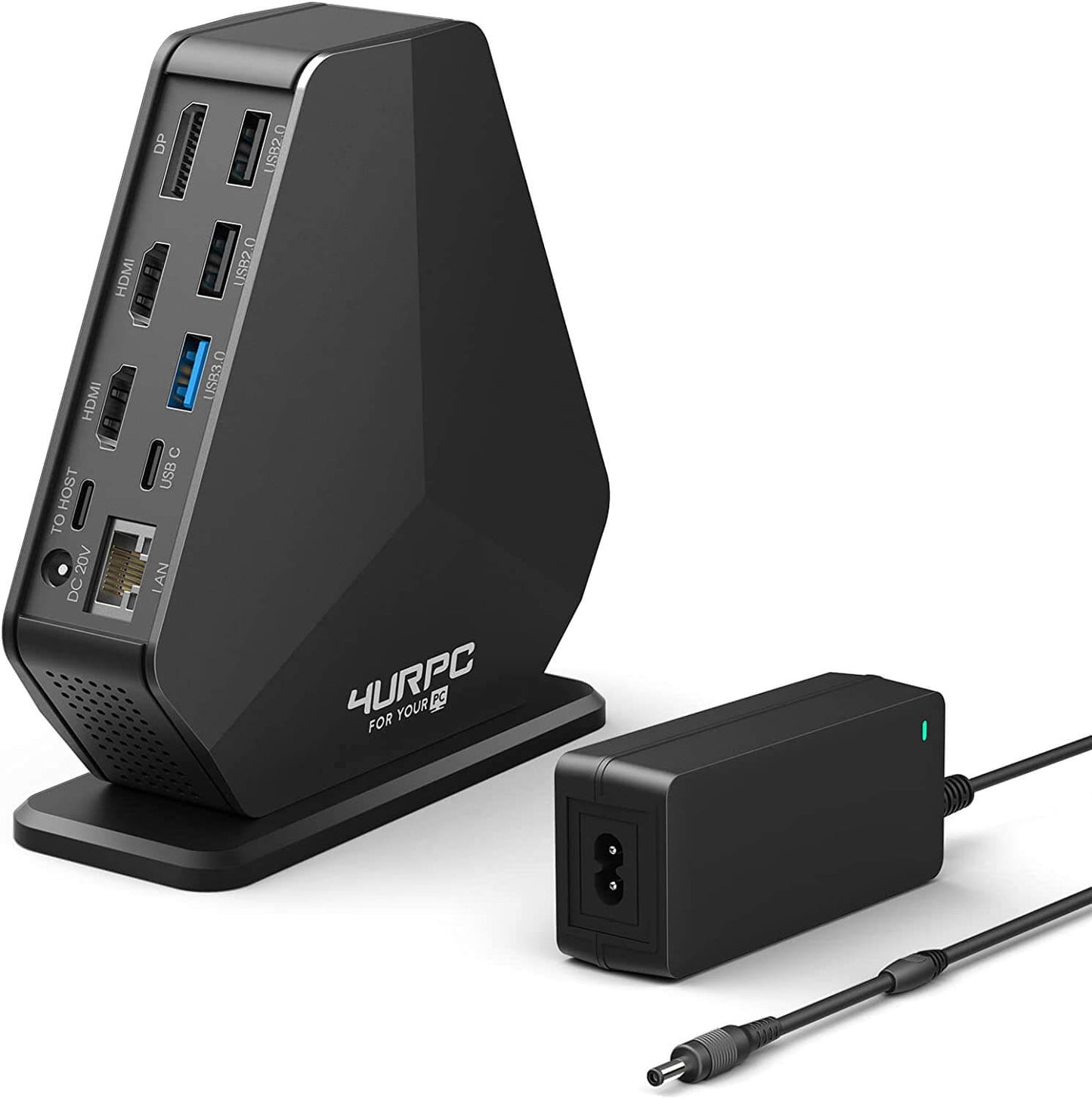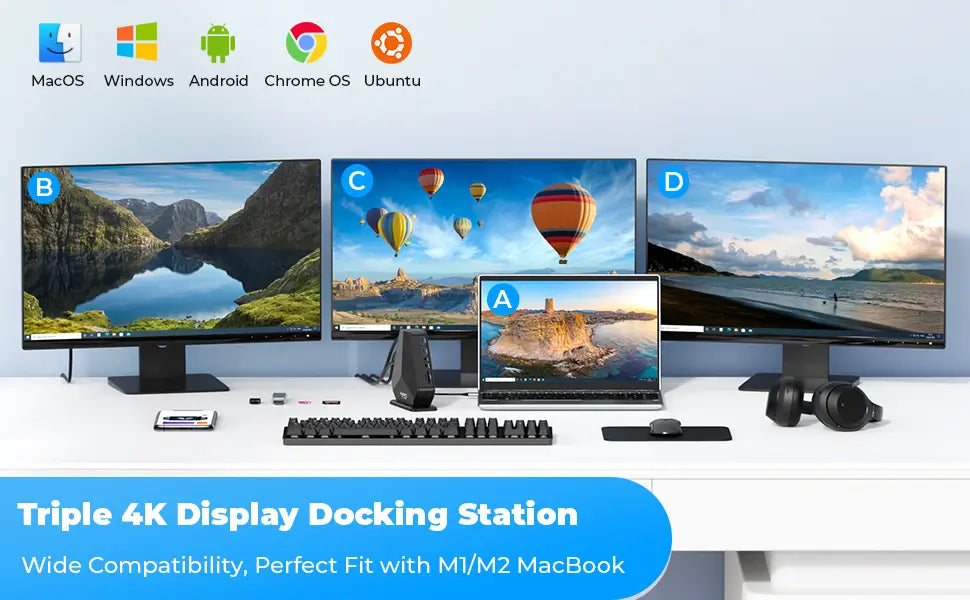 Triple Display Solution
DSC02 is a DRIVER-BASED docking station with power delivery, easily add two/three 4K external monitors for your macOS/Windows/Chrome OS system laptop. This DisplayLink docking station for Mac M1/M2 breaks Silicon M1/M2 chip limitations, allowing you to extend two/three external displays on an M1/M2 MacBook.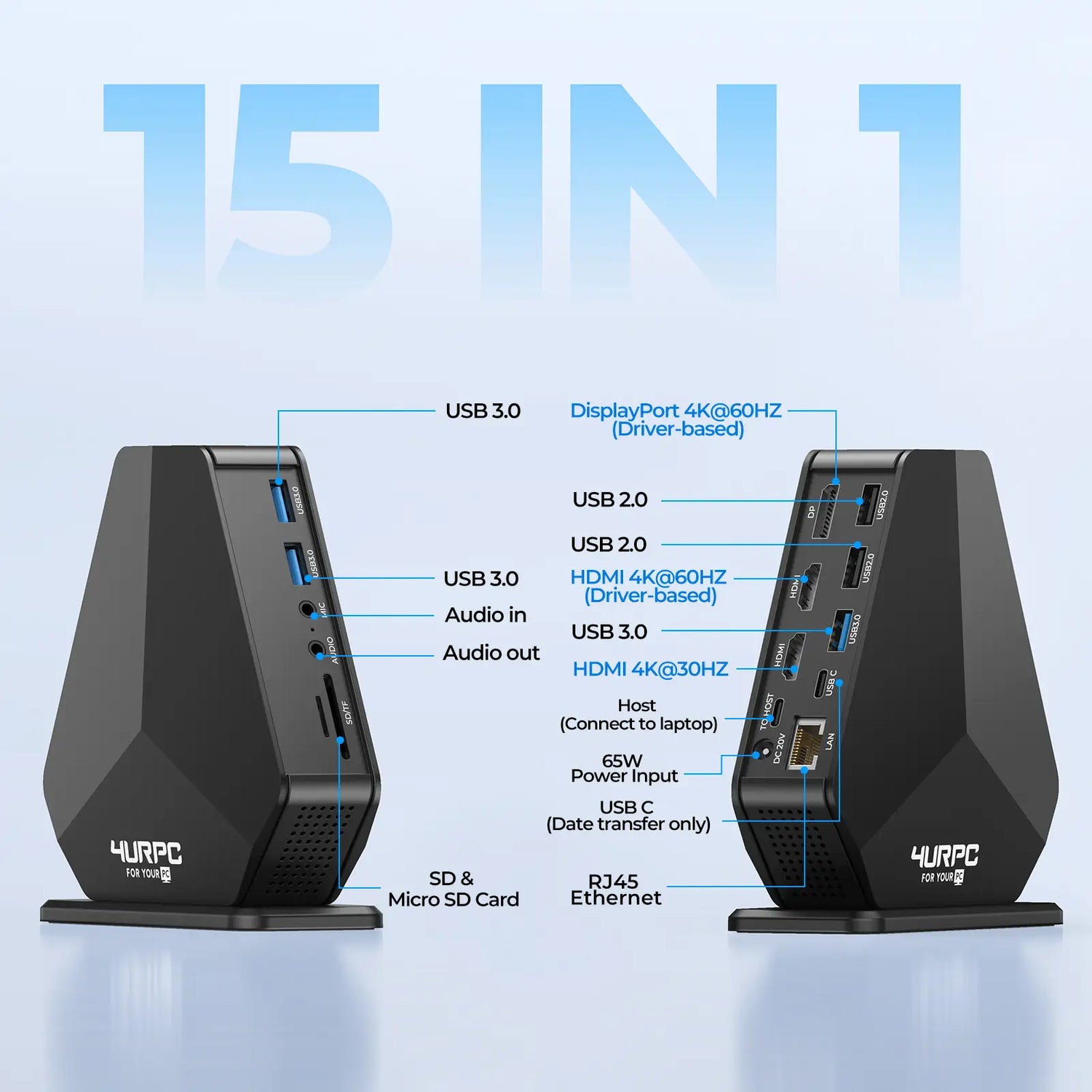 Ultimate Connectivity Experience
This 15-in-1 hub is a must-have for anyone who needs to stay connected and productive. With its support for 4K resolution and triple displays, you can enjoy stunning visuals and effortless multitasking. And with its compact and stylish design, it's the perfect accessory for your home office or workspace.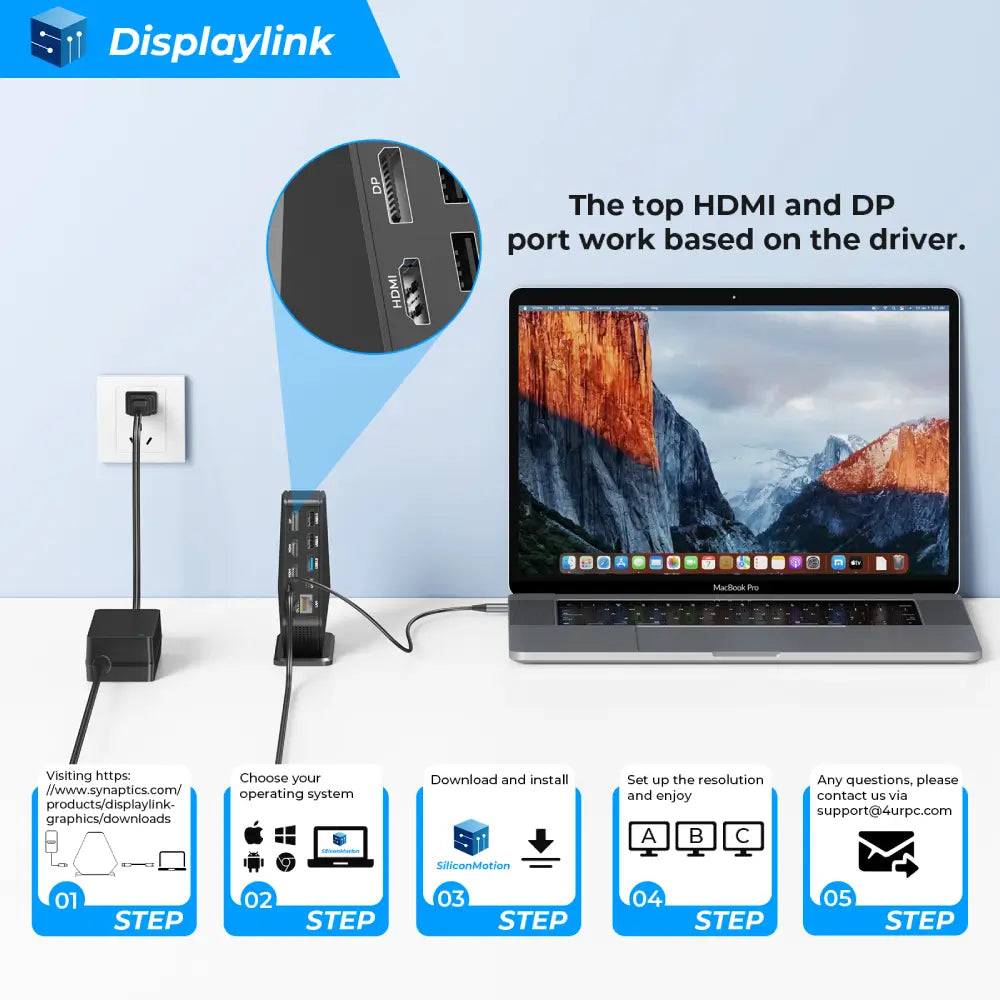 DisplayLink Driver Dock
The bottom HDMI on the MacBook docking station triple monitor is plug-and-play via USB C Alt, and the top HDMI and DP ports on the Macbook Air docking station work based on the USB 3.0 driver.